Tesla Customer Service Canada, Customer Support
Tesla Motors, Inc is an Automotive Industry which was established in the year 2003 by Elon Musk with its headquarters in California, USA. The company  designs manufactures and sells electric cars and electric vehicle powertrain components. 
"Tesla Roadster" is the first vehicle which spread worldwide and Model S is the second vehicle of the company. "Model S" in the year 2013 has won many awards which include, "Motor Trens Car of the year, "World Green cars and Automobile Magazine. The main motive of the company is to innovate electric cars at a reasonable price for the customers all over the world.
The company employs 6000 people all over the world having around 2.013 million dollar revenue in the year 2013. At the end of 2014, the company will deliver Model X  would start its high-volume production in the second quarter of the year 2015. Model S, Roadster, Model X etc are the models offered by the company.
The company opened its first store in Canada in the year 2012 across the Yorkdale shopping centre Toronto, Canada. Later, the company has started four Tesla stores in Canada across the cities in Toronto, Montreal and Vancouver.
Tesla Customer Support Canada
For any queries for your Vehicles you can contact Tesla Customer Service Number Canada  by filling the details given in the Contact Form where you have to include all details like Name, Email Id, Phone Number, Subject and Comments about the product and company service clearly in the Contact Form and the form is shown below for your reference. The Customer Support team supports you by sending an appropriate solution to your email id which you would mention in the Contact Us form.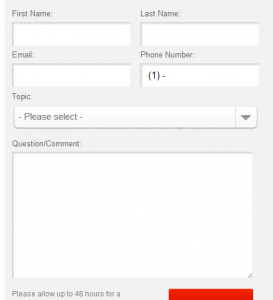 Tesla Canada Service Number: (888) 518-3752
Tesla Canada Store Addresses:
Calgary-Chinook Centre
6455 Macleod Trail,
Southwest Unit #1179
Calgary, T2H 0K8
Montreal-Ferrier
5350 Ferrier Street
Montreal, H4P 1L9
Toronto-Lawrence Avenue
1325 Lawrence Ave East
Toronto, M3A 1C6
Toronto-Yorkdale Shopping Centre
3401 Dufferin Street, Suite 320
Toronto, M6A 2T9
Vancouver – West 4th Avenue
1636 West 4th Avenue
Vancouver, V6J 1L9
Vancouver-Robson Street
929 Robson St
Vancouver, V6Z 2V7
For more details about the company, you can refer the Website