Maybelline Customer Care Indonesia, Contact Details
Maybelline is a brand known for Cosmetics which was founded in the year 1915 by Tom Lyle William with its head office located in Illinois, USA.
It is a parent company of L'Oreal. "Maybelline Cake Mascara" is the first eye product introduced in the year 1960s. "Maybe she's born with it" is the slogan of the company.
Powder, Foundation, Blush, Mascara, Eye Liner, Lip Balm, Lip Gloss etc are the different types of products sold by the company.
These company products are firstly tested on animals and are releasing in the market. Eye Studio, Fit Me, Color Sensational shades for lips are the new products of the company.
Maybelline Customer Support Indonesia
For any queries or for the support from the company, you can make use of the Contact Form or can dial the above number so that the Customer Support people can call you back to solve your queries.
You need to include all your details like Contact Number, Email Id, Address along with your suggestions. The screen shot of Contact Form is shown below for your reference.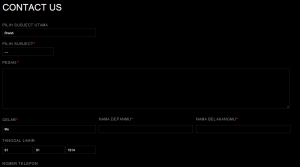 Stores in Indonesia
MDS HERMES PALACE MALL
Hermes Palace mall, banda Aceh
Carrefour Medan Citra
Kawasan Niaga Blok A20153, Medan
Hypermart Medan-Palladium
Mall Grand Palladium, Medan.
MDS THAMRIN MEDAN
MDS Thamrin Medan, Medan.
MDS MEDAN MALL
Medan Mall,Medan.
Guard Medan
Cambridge
Cambridge, Medan.
Hypermart Balai
Kota Tangerang
Balai Kota Tanggerang, Tanggerang.
Guardian Mall Pluit Village
Mall Pluit Village,Jakarta Utara.
Ascoco-ramayana cijantung
Mall Cijantung, Bekasi.
Guardian Giant Tambun
Giant Tambun, Bekasi.
Guardian Giant Hyper Cibubur
Giant Hypermarket Cibubur, Jakarta Timur.
Hypermart Cilegon
Hypermart Mayofild Cilegon, Cilegon.
Carrefour Serang
Carrefour Serang, Serang.
CHANDRA LAMPUNG
Chandra, Bandar Lampung.
GOLDEN TRULY DEPOK
D' Mall, Depok.
Guardian Hero Tmn Anggrek
Mall Taman Anggrek, Jakarta Barat.
MDS PEJATEN
Pejaten Village, Jakarta Selatan.
In order to know more about the company and latest products , you can refer the website