Coach Customer Service Number Malaysia, Contact Details
Coach is one of the leading brands for fashion accessories. The company has its main head office location in New York, USA.
It offers the wide range of products which include handbags, watches, men's bags, jewelry, sun wear, outwear, carves, Fragrance and other related accessories.
It one of the leading e-commerce sites which offer fashion and lifestyle brands available exclusively online. It has a huge collection of Womenswear, menswear and Accessories.
The company has listed on New York stock exchange, the Stock Exchange of Hong Kong Limited.
Further, its mission is to provide the best service to its customers by offering best brands and exclusive varieties of products which can satisfy the needs and demands of its buyer.
Coach Customer Support Number Malayisa:
Phone Number: 1-800-816-698(Toll-Free Number).
For any queries or for the support from the company, you can make use of the Contact Form or can dial the above number so that the Customer Support people can call you back to solve your queries. 
You need to include all your details like Contact Number, Email Id, Address along with your suggestions. The screen shot of Contact Form is shown below for your reference.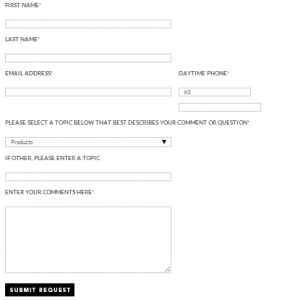 Store Locators
Lot SATP G31/37, Passenger Level,
Satellite Building,
KLIA, Sepang 64000,
Kuala Lumpur International Airport.
(60) 3 8776 1155.
Mon-Sun 06:30-00:00.
Lot 226, 228 & 230 Johor Premium Outlets,
Indahpura, 81000 Kulaijaya, Johor.
(60) 7 590 9232.
Mon-Sun 10:00am-10:00pm.
GF-43A, GF-45, GF-46, Queensbay Mall,
100 Persiaran Bayan Indah,
11900 Bayan Lepas, Penang.
(60) 4 643 6739.
Mon-Sun 10:30am-10:30pm.
Subang Parade
5 Jalan SS 16/1, 47500
Subang Jaya, Selangor
Jalan SS 16/1 Ss 16
47500 Subang Jaya, Selangor, Malaysia.
Unit G1.10 Ground Floor & Oasis Blvd,
Sunway Pyramid,
Bandar Sunway, 46150 Petaling Jaya,
Selangor.
(60) 3 5631 7799.
Mon-Sun 10:00am-10:00pm.
For more information, apart from this, you can also visit the main Website  by clicking on the link given and get the information.
Contact the local dealers mentioned above or else to submit the customer feedback and suggestions make use of the following social media pages.
Coach Malaysia Social Media Network:
Facebook: http://www.facebook.com/CoachMalaysia.
Twitter: https://twitter.com/coach.
Instagram:http://instagram.com/coach.
youtube:http://www.youtube.com/coach.